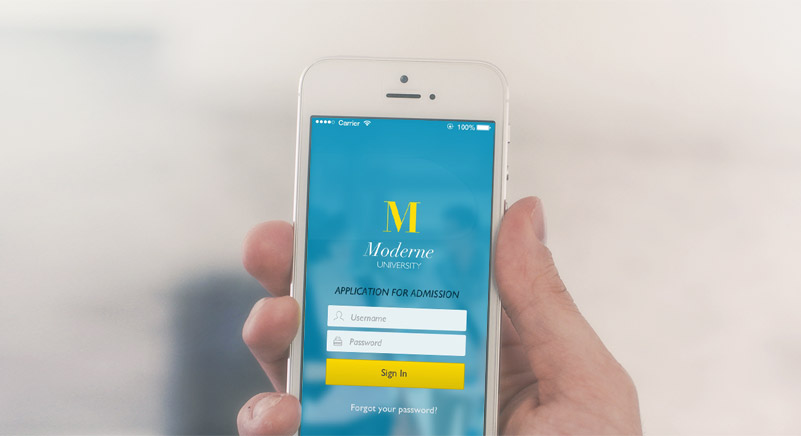 College Admissions
iOS App
I led the product design on an iOS app platform for college applications. The platform would be used to create individual apps for higher-ed clients.
Making the case for a
better mobile experience
The Challenge
In 2010, 3% of students applied to college via a mobile device. In 2011, that numbered more than doubled to 7% and again in 2012 to 14%. Mobile had become a significant source of application submissions, however looking deeper we discovered missed opportunities.
In 2012, nearly 38% of students started their applications on a mobile device. That means 24% of students either submitted on desktop or never submitted at all. The task was clear, we needed to convert that 24% in to submissions. We needed to create a better mobile experience.
The Concept
Filling out a college application can feel like an intense, formal interview with hundreds of wordy questions. To change this, I set out to conversationalize the application process.
By guiding the student step-by-step with helpful, casual questions the experience felt like a friendly chat with an admissions counselor.
Creating a comfortable
application process
Smarter Questions = Fewer Questions
Since many questions only apply to a small percentage of students I created question groups to reduce the amount asked of most students. Each question group asks a qualification question first to determine what questions, if any, need to be answered for a given question group.
Avoiding Roadblocks
College applications typically contain a few questions that aren't so easy to answer on the fly. It was important to allow students to skip these questions for later to encourage them to complete the remaining questions.
Putting it all together
My primary objective was to create a platform that could be used for many schools. In doing so it was important to ensure the platform could be adapated effectively for any school.